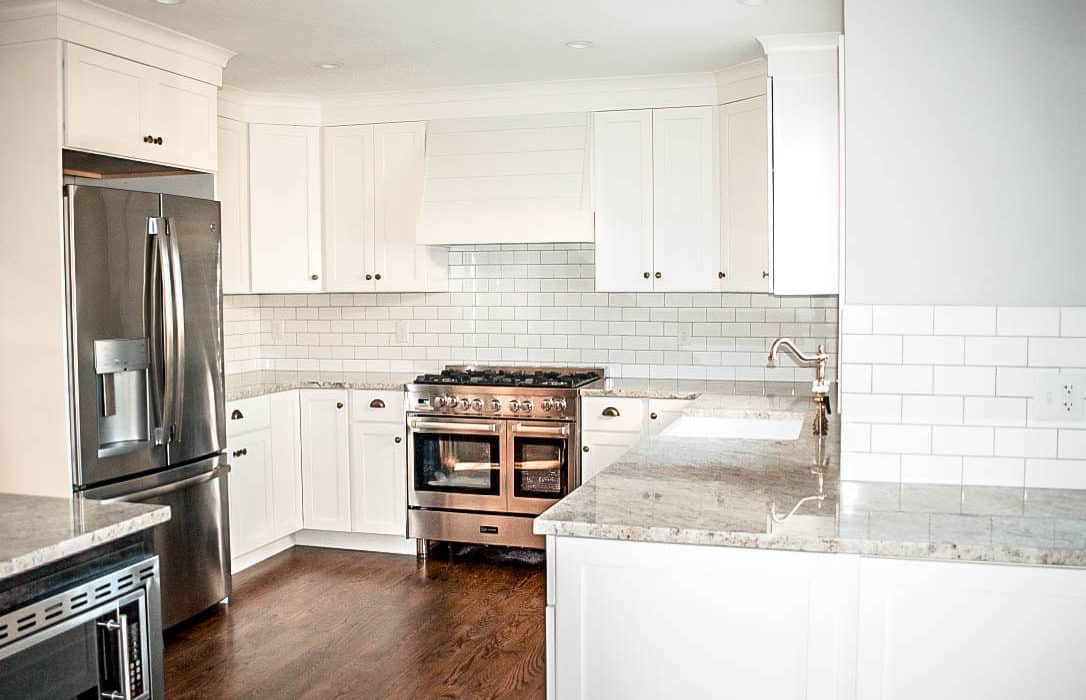 Who doesn't love a good fixer upper remodel these days. Am I right?! You don't want to miss any of the details about this incredible flip house below.
Fixer upper remodel : before
There's something about remodeling an entire house that makes me really excited. Well, Josh & Amy's adorable flip house might be one of my favorites so far. When BGH Construction was presented with the opportunity to fully remodel this house, Brian & Ben knew that it would be the perfect flip house. Although the old and abandoned house was in really poor shape, it had so much potential.  I have to be honest – when Ben and I walked through the house, I was a little bit nervous that it would be too much work. 
Fixer upper remodel: after
Because Josh and Amy purchased the home before we finished the flip. they were given the opportunity to make some selections and customizations to their new home. Hands down, the kitchen is my absolute favorite part of this fixer upper remodel. White Yorktown cabinetry, granite countertops, a large island, and farmhouse sink are just a few of my favorite things.
And those customizations that I mentioned for this fixer upper remodel? Just check out the tongue and groove wrapped hood, barn wood mantle, and metal detailing in the mud room.
The full bathroom and master bathroom selections were beautiful as well. White Yorktowne cabinetry, porcelain tile, and granite countertops resulted in a classic and timeless appearance.
If you're looking for more project inspiration, then head over to our portfolio page!